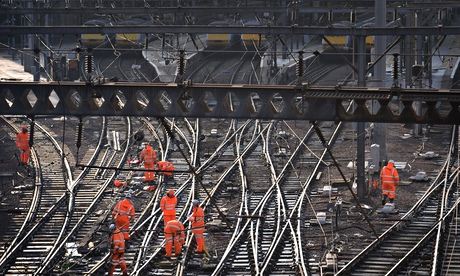 The government has apologised for the "totally unacceptable" disruption on the railways at Christmas but defended Network Rail, which it said completed most of its projects on time and attempted to limit disruption.
Thousands of passengers were left unable to travel after engineering work overran, leaving one major London rail station closed for a day and another temporarily closed. Addressing the Commons in response to an urgent question from Labour, the transport secretary, Patrick McLoughlin, said: "Passengers deserve a reliable rail service, clear information and rapid help when things go wrong. I am sorry in this case that did not happen."
But McLoughlin paid tribute to the 11,000 engineers who worked on the railway network over Christmas as part of a "record level of activity and investment", adding: "The vast majority of these complex projects were completed on time. But when things go wrong we expect the industry to have proper contingency plans.
"It is inevitable that any investment will, from time to time, mean some disruption."
McLoughlin said he and Department for Transport officials had been briefed on the planned works over Christmas. "We were not, however, involved in operational planning or contingency planning," he said. "That is how it should be. Network Rail should be able to get on with its job without political interference, but if it gets things wrong it will be held to account."
He said the industry's conventional wisdom was it was better to carry out major disruptive work over holiday periods, but added: "This level of disruption is wholly unacceptable and I am confident that Network Rail will learn necessary lessons to stop these things happening again."
McLoughlin said Network Rail's chief executive, Mark Carne, would be delivering a report on the problems by the end of the week. He said the Office of Rail Regulation was conducting a parallel investigation and was working closely with passenger groups. The transport secretary said he would consider what action to take after he received their reports.
But Labour accused him of complacency and allowing "appalling disruption". The shadow transport secretary, Michael Dugher, said: "At Christmas, we saw a combination of chaos and incompetence on the railway, causing misery."
Dugher questioned why the government had allowed 17 train operators to run no service on Boxing Day, and asked what assurances had been given over contingencies should work overrun. He said a critical report from the regulator, earlier in December, should have been "a massive warning sign to ministers".
He added: "Isn't it also time for the secretary of state to finally face up to his share of responsibility for what happened? It was only after days of disarray that the transport minister put down his selection box and leapt into action.
"The warning signs were in place. Lessons must be learned by ministers too."
McLoughlin responded: "This was the biggest set of engineering works carried out over Christmas. Previously [Labour] said that the secretary of state should not micromanage the industry. I agree."
Ukip MP Douglas Carswell also accused McLoughlin of making excuses and defending shoddy practices.
The transport secretary said the problems at King's Cross had arisen when work overran in a scheme to modernise points and overhead wiring, replacing 1km of track, and involved 14 engineering trains. Plans to reopen a limited service on Saturday 27 December had to be abandoned.
Passengers attempting to reach the capital from the north of England and Scotland were halted at Finsbury Park, a station outside central London, which had to be closed because of overcrowding. Euston station was already effectively closed because of planned engineering work that resulted in no direct trains between London and Manchester for four days.
McLoughlin said: "There was no doubt that there was a failure in terms of communication. In hindsight, Finsbury Park was never really an option."
At Paddington, problems in safety testing after work on signalling meant trains were not able to come into the west London station until the afternoon of 27 December.
Carne has said he would forfeit his annual bonus because of the Christmas chaos.
The Commons transport committee is to question Network Rail bosses about the disruption at a hearing next week.